Actually this is just a placeholder since well I'm working on the store right now, when I'm done I'll update this post.
In the meantime, go checkout my Etsy store at ,,,,
https://ripptechlabs.etsy.com/
Here's a preview.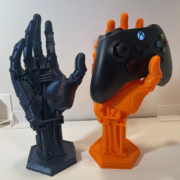 Actually I'm trying to get a few Etsy stores off the ground, I've got this one, for the 3d printed stuff..
https://ripptechlabs.etsy.com/
…and then I figured I'd start putting my Youths Companion collection up as digital files for inspiration, clip art, images, etc. bc why the af not. Eventually this will lead into finishing and linking YouthsCompanion.com as I do this. That site and this collection needs serious attention.
https://youthscompanion.etsy.com/
Oh, then I wanted to make Japan-related thingamadoodles and sell them here. No, there's practically nothing there at the moment, but there will be. There. Will be.
And then my antique radio thing which as it turns out people buy these things on Etsy for GOBS of cash.
https://antiqueradioshop.etsy.com/
Just, you know. Don't visit those or anything. lol, like anyone is reading this at all.
Categories
Type your comment...
Name
Email
Looks good.
Please type something to post a comment.
Please enter your name.
Please enter a valid email address.